We have been learning about materials and structures… We have been making plans and designs…. AND TODAY, we finally started to build our play structures! 
The classroom was buzzing with excitement this afternoon as the Grade 1 students started to build their play structures for this year's STEAM Fair. We have play structures with pools, slides, rock climbing walls, and so much more! We will continue working on our play structures on Monday, so please feel free to keep sending in empty paper towel rolls, cardboard, recyclable materials, or anything else your child may want to use for their structure! 
You are invited to come see the Grade 1 STEAM Fair projects on Thursday, March 7th from 8:45-9:30am. We look forward to showing off all of our hard work!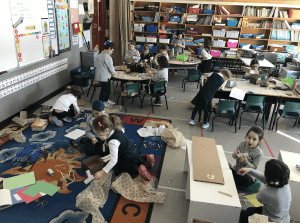 Please see the note below about the Middle School STEAM Fair:
The OJCS is still seeking about 10 judges for next week's STEAM Fair.  If you know of someone in the following fields (a relative, colleague or friend) who might be available to come on Thursday morning, March 7, 2019 for about 2 – 2 1/2 hours, please notify Ellie Kamil in the office (e.kamil@theojcs.ca).  We are looking for judges with experience in the field of science, mathematics, engineering, technology and art.  We also provide a light breakfast!
Shabbat Shalom!