Happy Spirit Week!
For some strange reason the children were all missing from school today, but a group of book/movie characters came instead… We are having a fun learning day together…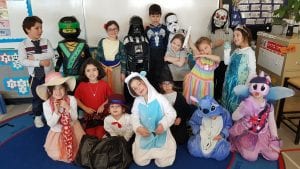 I do hope to see them all back at school tomorrow…
Regardless… Homework is given only today and tomorrow, due to Ta'anit Esther, and Purim.
We will be finishing the book and read it all again at school on Wednesday. Here they are again:
לכבוד פורים- מי בכיתה

 ונהפוך הוא
Monday:
1.
2.
Tuesday:
1.
2.
Reminder:
Tuesday is Hawaii Day
Wednesday is Future Career Day
Thursday is Purim 
Friday is PJ day – they are welcome to bring their stuffies. 😉