For the next little while, your children will be exploring, sorting, labelling and describing 2-D and 3-D shapes in our Math Daily 3 program. The students will all have many opportunities to locate shapes in their environment and describe them using the following vocabulary:
face: a surface of a solid
edge: a line segment at which 2 faces meet
vertex (pural:vertices): a corner; the point where edges of a 3-D shape meet
How can you best support your child at home?
Play I Spy where they look for and point out, 2-D and 3-D shapes. Encourage your children to use math words to describe them.
Have them compare shapes in order to identify how they are alike or different
When they draw, have them explain what shapes they used to help them create objects.
The following photos allow you to see just some of the math stations we have already completed.
Working in pairs, they visited 6 stations, where students discover how many edges, faces and vertices the shape at their station possessed. They then collaborate to create drawings of their shape and describe where they appear in the environment.
The photos below contains examples of open ended math questions, which encourage students to use higher order thinking skills to solve problems and understand that some problems can be solved in many ways.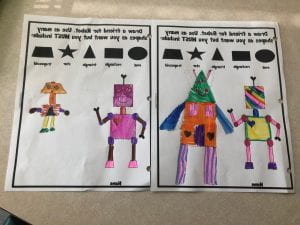 Last week the students were very excited to begin using Prodigy, an online math game to reinforce skills introduced during class time. This app will be part of our math technology station. To play at home just do the following:
1. Go to www.prodigygame.com on almost any Internet enabled device.
2. Select "Play Prodigy" in the top-right corner.
3. Enter your child's username and password and then select "LOGIN".
These usernames and passwords will be glued into their red reading take home folders tomorrow.
Have a great week and remember keep an eye out for interesting 2-D and 3-D shapes in your neighbourhood and send photos our way!