Hi everyone,
3 day weekend… it feels like we are back from a holiday…
More than during a regular week, it is important to keep routines when there is a change in the weekly schedule. Please make sure you check what the Thursday reading homework is even if you have a long weekend ahead of you. I love that the students take their reading seriously; however I do not want them feeling guilty or stressed if they did not do it. I tell them that it happens that we forget once in a while and that it is completely acceptable, but I would like to try and avoid the stress that it causes them when it happens.
If for any reason your child does not read please explain to them why it is and you can add a note in their booklet. It is empowering to them to have an explanation, and often when they do know, they come to tell me before we even get to reading the homework… avoiding the unpleasant feeling that I will notice the empty signature spot as I walk around the room, while we read (also, they receive a sticker for every read page and I don't like not givng it 🙁 to them. Please support your child by signing their Choveret Kree-ah daily.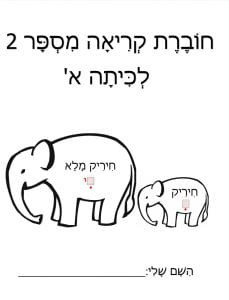 With all this in mind, following is this week's HW:
Monday – P.5 Mee & Nee
Tuesday – P.6 Dee & Lee
Wednesday – P.7 Kee & Ree
Thursday – P.8 Shee & Bee
Choveret Kree-ah 2 with the recordings.