Hello everyone, it's another interesting week here in the first grade.
As a part of our morning routine, we take notes about the weather, debating whether it's rainy, sunny, cloudy, etc. outside… One of the different weather conditions we talk about is windy (רוח). Unfortunately, 2 weeks ago, a big storm tore away the flag from one of the businesses situated across the 417, leaving us completely lost when it comes to determining the level of wind outside.
That is why the first grade decided to spring into action and use their hard earned vocabulary into use. We sat down and wrote a stern, yet firm, letter to the Customs and Immigration Union (look it up, this is the real deal), asking them to bring their flag back. We also took the liberty of drawing some nice depictions of how the loss of the flag makes us feel, and these are some of the results: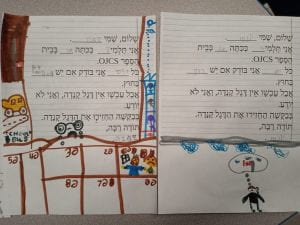 Now we just have to hope that if they don't bring the flag back for their own national pride, at the least they'll do it for the children!
I hope that there will be updates to follow,
Saar.