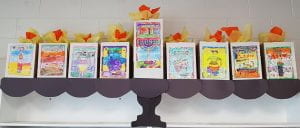 This was a whole class team work, as we work better together.
We put together puzzles in small teams, then coloured our parts and glued on a box. 
Putting them side by side. we created a Chanukiya. 😉
Do you know the difference between a chanukiya and a menorah?
You can share your answera as a comment…
Sorry for the delay in posting the recordings. I am actually posting this week's and the last 4 pages which I am giving for the winter break. I encourage you to continue reading daily throughout the holiday, to keep the flow and increase the memory of sounds. I am giving oly 4 pages as homework, so a good idea will be to review past pages, or break the pages into small chunks… even reading 2 or 3 lines a few times a week.
Here they are: 
p7. Choh & Soh
p8. Poh & Foh
p9. Noh & Tzoh
p10. Voh
p.11 Yoh & Oh
p.12 Koh & Boh
p.13 Choh & Zoh
p.14 Noam Veh-HaKochav