Here's an update to some of the great things happening in the class.  Our own Morah Lianna introduced our class to a Structured Word Inquiry Lesson. The Lesson was on suffixes and adding ing, ed, and er to words we may know.  In Math we are exploring numbers beyond 20. Some of the math tools we used in class were a double 10 frame and a Hundred chart.  Take a look at our chart for the beginning of our Social Studies Unit on Roles and responsibilities to see what job your children said they were responsible for at home 🙂
Today we read and discussed two books for Truth and Reconciliation Day. During our Library time Miss Bridget taught us the difference between Fiction and Non Fiction Books. Please remember in order to choose a new book the old book must be returned.
In our Daily Five have a look at how we read to Self and Read to someone!
Next week we begin The Global Read Aloud. One book to connect the World  To learn more about the books and author chosen for the Picture book study you can read all about it here. theglobalreadaloud.com
We have started to send home our Note-totes. Please empty and return on a daily basis.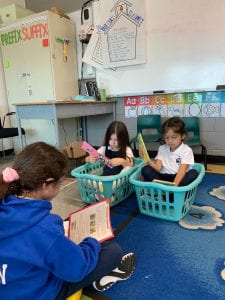 1A and 1B read these books today!