We were very busy in Grade 1 last week learning and commemorating Remembrance Day. We started off reading the story "Proud as a Peacock, Brave as a Lion" by Jane Barclay and then we learned about the different branches in the Canadian military: the Air Force, the Marines, the Navy, and the Army.
We had a TON of questions about being in the military (what life looks like, what the job is all about, and what some of the job requirements are) as well as what it means to be a veteran. So on Wednesday we had two very special guests come in: Troy and June! Troy and June are two Canadian Air Force veterans (and to make it extra special they are also Ms. Karissa's parents). They told us all about why they chose to join the military as well as why they chose the Air Force. They told us about some of their travels that they had to do while they were in the military, and answered all of our questions about military life (like the vehicles they got to be in, what they ate, and what their daily life was like). It was so much fun seeing the students so engaged and asking so many amazing and thoughtful questions. Selfishly, it was also so much fun for me having my parents as guests in the classroom!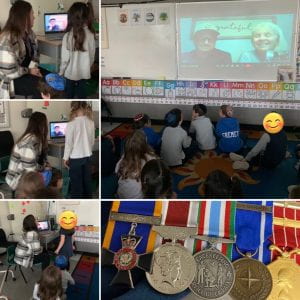 After learning all about life in the military and everything our veterans have done for us, we decided to write thank you letters to Canadian military veterans. We were so proud of our work that we even decided to put them on display in the hallway to show everyone at school how thankful we are for our veterans and all serving members of the military.
Finally, on November 11th, we got to go in front of the ENTIRE school and recite a poem in French about poppies as well as sing our song "Light a Candle for Peace" that we have been practicing so hard (for a few weeks because Ms. Karissa MAY have gotten the days mixed up and thought November 11th was a week earlier than it actually was). This song was so special because not only did we sing about lighting a candle for peace all around the world, but we also learned the song in sign language.
We couldn't end the week without making a wreath full of poppies. We wanted to make our wreath extra special to show all of our gratitude for military members and veterans so we took our time to make these beautiful poppies. All in all, we had a great week learning about and remembering the fallen soldiers and thanking all veterans and actively serving military members.
From all of us in 1B, we thank you!